Good morning my friends!! Today I showed how easy it was to use the Simple Cards Cricut cartridge to make this adorable anniversary card for my hubby on
Our Kreative Karma
! It is free to use this week only in the Cricut Craft Room at Cricut.com. Really cute cartridge!
This is the front...
And this is a close up of the glitter!
Such a fun cart! I hope you go over and try it out!
One other little exciting thing happened to me last week. Mark Montano is a clothing designer/interior decorator/crafter extraordinaire and he is always posting amazing videos on Facebook. He does give aways every week and last week guess who won his latest book, The Big Ass Book of Bling?!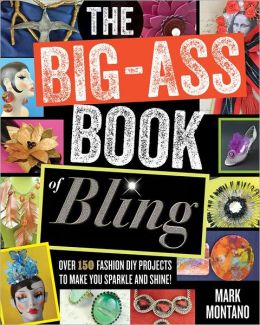 Yes, Sir! It was me!! It is an amazing book and I am excited to start making some of his projects. If you are on Facebook, look him up. Join his group and comment on his giveaways! You just may get your own Big Ass Book too! Please tell him Jodie sent you! It won't get you any more points, but I know he would like that!!
Thanks for dropping by! One more day and it is the weekend!! Guess what I am doing? Hint: see the book above! LOL!!
Big hugs!
Jodie